Specialists in Fabric Structures
Welcome to TensileFabric, a Bristol-based firm offering the highest quality tensioned fabric structures, designed and created specifically for you...
Established in 2001, we have completed over 900 projects varying between interiors, exhibitions and exteriors, working across the UK and Europe. We have extensive design expertise, a sensible management team, a reliable production crew and very experienced installers. Our small but flexible company aims to provide a smooth and trouble-free process, so that your tensile fabric structure is of the perfect design, produced on time and, perhaps most importantly, to budget.
Browsing the wide selection of structures in our interior, exterior and exhibition portfolios, you'll notice that very few projects are the same. Our bespoke design service works specifically to our clients' needs. Should your lead time be limited in some way, we also offer ranges of both exhibition and exterior pre-designed structures to make a quick and easy choice for your project. In particular, we provide both bespoke and well-developed product options in our ever more popular school canopies range.
Within this website you'll find information on the fabrics we use, the design processes we go through, the rigging we incorporate and the installation procedures we follow for each and every fabric structure project.
Latest News
Completed
We worked on this exciting project for Channel 4's 'Tom's Fantastic Floating Home' to create a funky folding canopy for Tom Lawson's boat. More...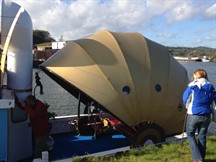 Read all our news
Product Microsites
Three canopy product ranges for three different environments. Click on a box to find out more...