Dining Domes For Year Round Outside Dining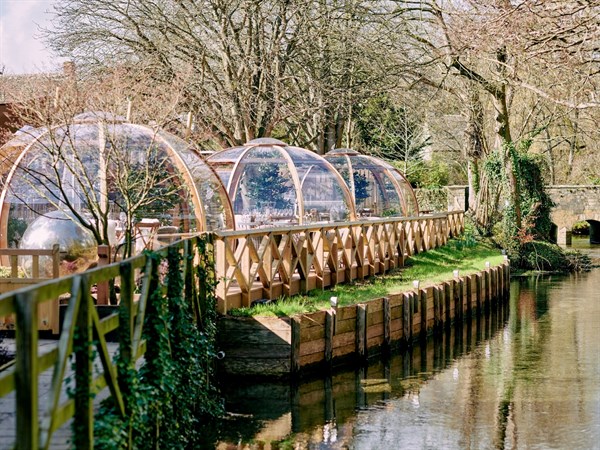 With the unpredictability of the British weather, these premium pods offer a brilliant solution for year-round outdoor dining.
Dining outside has always been popular, and perhaps even more so now in post-pandemic times when we are all still trying to be careful, whilst at the same time wanting to get back to a feeling of normality.
Private dining experience
The Allpod offers an exclusive private dining experience for your customers and can be used throughout the whole year. Often referred to as 'igloos' in the winter months, the pods are actually perfect for the spring and summer months.
The pods are really flexible and come with a number of door options depending on how much you want to open them up. Opening the doors allows for a gorgeous air flow through the pod. Plus, customers can still feel warm and cosy on those chillier days or evenings whilst enjoying amazing spring and summer sunsets.
And of course, on all the wet days that we have here in the UK, when your outdoor terrace would otherwise become redundant, you can still offer reliable covered dining to bring in extra revenue.
Indoor outdoor dining
Allpod has been designed with nature in mind – to give guests unrivalled views of the location around them, 360 degree and skyward views, and the feeling and sense of being in the outdoors.
Door options
Your Allpod can be as open or closed as you wish – from the standard single door, to double doors, to opposite single doors right through to two sets of opposite adjacent doors – so literally half of the structure could open up.
Shading options
Being Tensile Fabric Ltd, we are experts in all things fabric and shading! And so we have created the perfect shade sail to sit within the pods during the warmer months of the year. Designed to cover four panels, the sails shade just the sunny side of the Allpod and allow guests to still see out under the shade edge.
As an alternative to the fabric sails you could add vinyls to the pods which allow great flexibility as they can be in any shape, colour, design or style you wish, or even tie in with your company branding. The vinyls offer a lovely dappled effect when you are inside the pod.
Styling
The Allpod comes as a clear shell for you to dress and style as you wish - to suit your location, brand and customer base. Our clients have used a mixture of lanterns, festoon or fairy lighting, bunting, throws, fresh blooms and foliage to make the pods feel more spring-like or summery. The pods look even more magical when lit up by night.
Contact us
If you have an outdoor space which could benefit from the addition of dining pods, contact us now for more information on pricing and lead times.
By Abi Smith, 07/04/2022