Light-Diffusing Ceiling Screens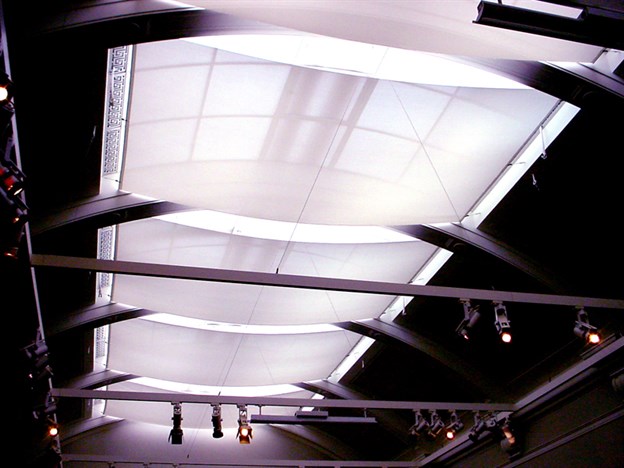 Project:

Sun Screening, Worcester Art Gallery

Description:

Light-Diffusing Ceiling Screens

Client:

Worcester City Council

Location:

Worcester

Fabric:

450 Natte / E Screen

Frame:

n/a

Fixings:

Glass fibre rod to stainless steel

Ref:

1045
These very simple ceiling screens were installed as part of a complete refurbishment of Worcester Art Gallery.
Specific sun screening fabric was specified to reduce UV and visible light transmission by around 80%, while retaining a feeling of lightness at ceiling level.
The free draping Natte fabric has a cut edge to the sides but a pocket at each end where a rod hooks back to the building via adjusters to make sure the drape level is equal on all panels.
Does your space need acoustic dampening? Acoustically absorbent fabric structures can help…
Need something a bit out of the ordinary? Interior, exterior and exhibition projects that go beyond the norm…
Join our mailing list for news and updates on projects and products…