Improving Sun Glare in your Office
Solutions for Excessive Sun Glare and Heat in Office Buildings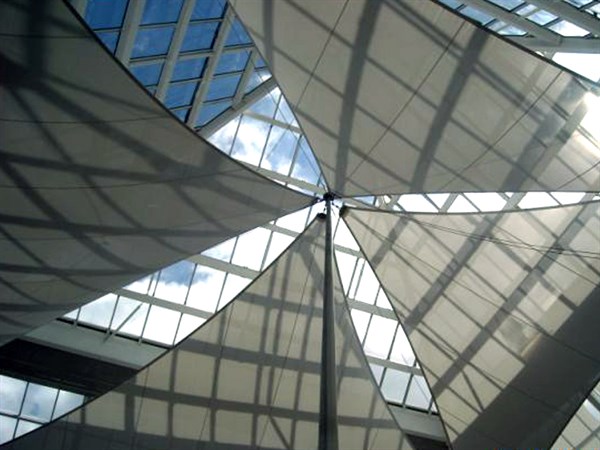 The Problem
Research shows that natural light improves the quality of life for workers. If your office gets too much direct sunlight, however, this can have the complete opposite effect on employee happiness and productivity.
Although sun glare in office buildings can be a challenge at any time of the year (and can actually be particularly noticeable in the winter when the sun is low in the sky) the advent of spring heralds the beginning of the real sun glare season.
For Facility Managers looking after their buildings, NOW is the time to be thinking about a solution, rather than waiting until the height of the summer when all your staff are sweating and struggling to see anything on their monitors!
Glassy atriums and offices with a lot of glass certainly look attractive and often have the wow factor visually, but when it comes to being inside them on a sunny day at any time during the year, it is essentially like being in a greenhouse. This can be particularly troublesome and uncomfortable for the reception staff and visitors in a glass reception area or atrium.
Excessive glare in an office makes it difficult for workers to see computer screens and direct sunlight onto glazing can cause the interior of a building to overheat very quickly, resulting in problems such as headaches, eye strain, fatigue and irritability - all potentially reducing productivity and morale.
The Solution
Brise Soleil is a popular choice and a great solution for the exterior of buildings, usually consisting of horizontal or vertical strips of material which protect the building from the sun. However, Brise Soleil is costly, has to be wind loaded, fixed in place, can be tricky to clean and can ruin the clean lines of the exterior of a building,
Adding interior fabric sails into your building can not only offer a very practical sun shading solution, but the sails are cost effective and can also create a visually striking aesthetic feature in the space.
We are experts in interior fabrics and understand which fabric will be required for a particular space. We use a sun path analysis programme to predict the correct shape and orientation required all year round. Based on these findings we then bespokely design and create the appropriate structures and strategically install them to ensure perfect positioning to solve the problem.
The beauty of adding in a fabric feature is that you can still see through it – allowing a view out of the window and without stopping the light transmission, while at the same time reducing heat and glare from the sun. For example, we might choose a class O fire rated mesh fabric with an openness factor of 1% for some high-level fins – providing a vision of light above whilst preventing all of the glare.
Sails can also be customised with a company logo or colours to tie in with your branding and help create a feature, or they can act as signage.
In summary, a tensile fabric interior structure can help to:
* Create a happy working environment
* Enhance employee productivity and comfort
* Reduce sun glare and heat
* Create an interesting internal feature
View our interior sun shading portfolio
Contact us to discuss your interior project.
By Abi Smith, 21/03/2019